One would think that with the plethora of Facebook groups for court reporters that finding previously asked questions and answers to CATalyst questions should be easy. However, answers tend to get buried or lost in the constant chatter of unrelated topics, and there is no way to know which answer is the correct one. The most often-asked questions get pushed off the page, leading to the frustration of knowing the question you're following was just there, but now you can't find it, and the same questions being asked repeatedly.
Plus, totally separate from your C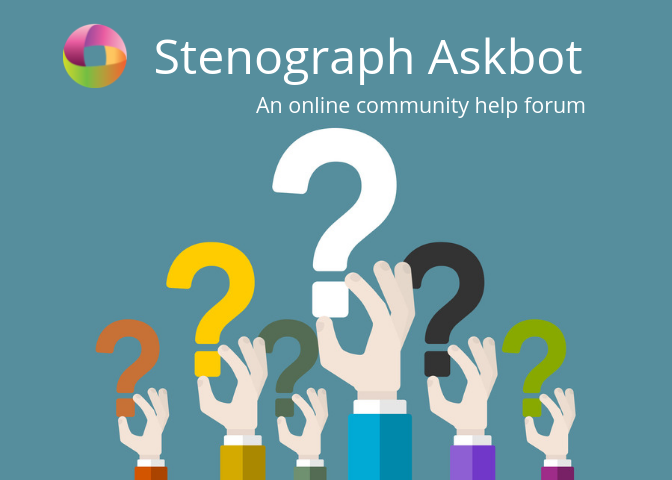 ATalyst question, there's the issue of online privacy. The giant media companies are mining our personal data so they can sell it to fund (and profit from) the "free" services they provide. Trolls and 'bots are filling our, and our friends' feeds with false or misleading information. A lack of self-censorship in social discussions can alienate current and potential colleagues. Also, there's one other significant problem with social media: even when enjoyable, it can be detrimental to productivity and to your physical well-being as it can add hours of screen time to your day!
With https://StenographHelp.Askbot.com, all issues with getting CATalyst help via social media are resolved. First, it is a benefit provided to those with EDGE (current support contract), which guarantees that each member of the community is an active CATalyst user with access to the latest features of the software. They are not participating socially; they're there for one purpose only: to find answers to CATalyst questions. Top questions and answers are easily visible, and users can upvote frequently asked questions and the most helpful answers. When you start typing your question, if it's been asked before, you'll likely find a link to that question and its answer! There are no unrelated posts or useless content to sift through. Plus, the site is monitored by CATalyst experts for accuracy. You always know you are getting the correct answer, not just a guess by someone who wants to be helpful but doesn't really understand what you're asking or why.
Most of the certified independent training agents and I have changed the way we approach and use social media. Most of our time on social media is strictly social; we use it to keep in touch with colleagues and friends in the industry, and occasionally provide tips or announce upcoming classes. However, it is unlikely we'll attempt to offer support or training to Stenograph customers on social media sites. Instead, we encourage all customers to go to https://StenographHelp.askbot.com.
Cindi Lynch is the Training Program Manager at Stenograph. She can be reached at clynch@stenograph.com.