Stenograph relies on a group of top professionals in the industry to beta test our hardware and software products and provide their thoughts on their experiences. The following are their reviews on the Luminex II.
David Sperling, RDR, CRR, CRC
Stenograph has proven once again that it is possible to improve on what I once perceived as perfection. My first Stenograph writer was purchased in 1968. I've written on every model since. 
When the Diamante was released, I was convinced this was the ultimate: beautiful to look at, wonderful touch, improved in every way over its predecessors. Then came the Luminex with an even shorter stroke and lighter, smaller body. It was love at first sight and stroke. 
When asked to be part of a team testing the Luminex II, my thought was: How could they possibly improve upon it? They improved it in so many ways, other beta test sites and I cried, "You'll never get it back." 
The Luminex II is the most adjustable writer I've ever encountered, and I've written on some non-Stenograph writers as well. This one's adjustable without the use of a computer, so adjustments can be made on the fly. 
Stenographers who desire a shorter stroke are going to be amazed. If you don't like tension on your keys, the universal bar (the long bar with green felt that runs the width of the writer under the keys) can be disengaged with the push of a toggle. Personally, this has created the smoothest stroke I've ever experience while still allowing there to be movement of the keys. Writing at this short a depth without any tension brings some challenges, which can easily be adjusted for with a few on-board settings. 
This leads to the new and improved display screen, which is now glass from side to side with a soft protective edge. The touchscreen has the added ability of scrolling and adjusting font size by pinching and zooming. 
If you're on Case CATalyst 20, you may already be familiar with the Opus audio option that provides crystal-clear audio using as little as 6MB per hour while recording.  This audio is now available directly from the writer. Translating notes written in this manner provides audio that is perfectly in sync with the text. 
One minor but convenient change is from a USB Micro to USB-C. Finally, no need to figure out which way is up. My fingers are still fine. My eyes, not so much. Of course, WiFi and Bluetooth options are available as well. 
Stenograph has really hit it out of the ballpark with the Luminex II. Competitors mentioned in the past that Stenograph would NEVER be able to achieve a shorter stroke. Well, they did and it rocks!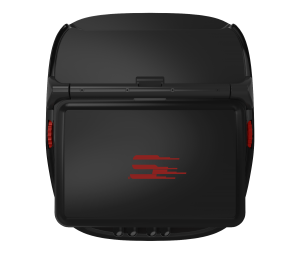 Jeff Weigl, CSR(A), RMR, CRR, CRC
I was super excited to hear that the new Luminex II was coming out, and have been thoroughly enjoying the writer since I got my hands on it. If you're thinking of upgrading from a Diamante, Mira, or Stentura, a whole new world awaits. The Luminex II builds off of everything I love about the Luminex I – modern looks, great touch, and clean translation in such a small/light package. The Luminex II picks up from there with further refinements. The screen itself has been modernized and is styled more like a tablet, with touch options to ease navigation; and the hinge mechanism itself is much sturdier.
The biggest change with this machine is the stroke depth range available. You can go MUCH shorter on this machine. Both the tension and stroke depth wheels are now numbered, too, so you can consistently dial in your preferences  (I've been working with a 2 on depth and 5 on tension). I was initially concerned that the shorter stroke would mean a big adjustment period requiring lots of tinkering with key settings to get a solid translation, but after updating my preferences from my last writer, things were seamless. If you're looking for an upgrade, I can't recommend it enough.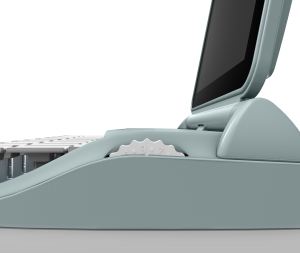 Lesia Mervin, CSR, FAPR, RMR, CRR, CRC 
After writing on the L2, I'm never going back! I've been asking for a shorter/tighter stroke, and now Stenograph delivered! But the beauty of it is, if you don't want the shorter/tighter stroke, tweaking to your preference is so simple, even while writing a job. I may want a different setting at the beginning of the day than I do at the end of the day. With a simple motion you can change all that.   
At first I was thinking it wasn't a huge difference until I had the opportunity to write on my Luminex 1 for a job after using the L2 for a few weeks. I was gobsmacked – yes, you read that right – gobsmacked at the difference when writing between the two! I love the touch and feel of the L2! 
The new USB-C cord is so much easier to quickly insert without worrying which way it needs to be inserted. Truly plug and play! The Opus Audio is crystal clear and syncs easily with CATalyst. I love the enhanced scrolling screen. I was able to enlarge the font quickly for my tired old eyes. The scrolling is smooth and easily readable. Thank you, Stenograph!  Well done! 
Mike Miller, FAPR, RDR, CRR
Going all the way back to the Mira, I always get the newest Stenograph writer as soon as it comes out… but I always pause and think to myself there is NO POSSIBLE WAY they can make this machine any better, so why am I spending this money? Once I get the new one, it becomes immediately apparent that they truly did make it a whole lot better, and I'm always glad I pulled the trigger. 
So now there's a Luminex II. What can they do to improve the Luminex? Well, the crazy short stroke depth has me writing cleaner with far less fatigue than I ever thought possible, and the on-board Opus audio now matches the high fidelity I'm getting in CATalyst. So there's that. 
Don't think of it as a sequel. Sequels always stink. This is evolution. It's what our writer always should have been. 
Merilee Johnson, RDR, CRR, CRC, RSA
There are few professions more closely tied to a single piece of equipment than court reporting. The moment my hands hit the Luminex II, I wanted to keep writing. From the feel of the shallow stroke to my improved realtime translation rate, it was clear this is the best writer Stenograph has made. The masterminds behind this writer have created enhancements I didn't know I needed. The ease of access between the touch screen menus, the noticeably shallower stroke, and the simplicity of using a USB-C cable, eliminating the potential for loose connections, are all exciting enhancements. The day my writer improved, so did my writing!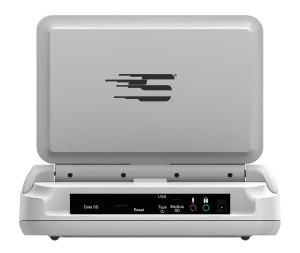 Susan Miller, RDR, CRR, CRC
Stenograph has finally made the machine I have always dreamed of.  Writing on this machine is like driving a fine sports car with endless easy and user-friendly tweaks to fit every mood. The touch and translation are unparalleled. Thank you, Stenograph!
Learn more about the Luminex II here.