Stenography student, Isabelle Lumsden, has become a sensation on social media with her TikTok explaining stenography and the profession of court reporting. If you haven't seen it, it's worth watching. Isabelle's TikTok caught the attention of us at Stenograph, so we decided to reach out to NAIT (Northern Alberta Institute of Technology), where Isabelle is a student. We had the chance to ask Isabelle, and one of the instructors at NAIT, Joanne McKenzie, CSR(A), CRC, some questions to learn more.
Thank you to Isabelle, Joanne, and NAIT for all their hard work and dedication to the stenography program. We appreciate all you are doing to promote the profession of court reporting and captioning. We're proud to serve you.
Isabelle Lumsden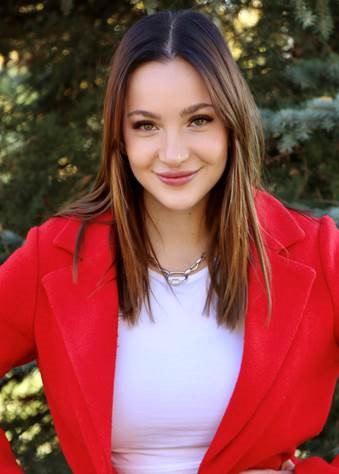 What led you to seek a career in court reporting? I was at a crossroads in my life, trying to figure out what I wanted to do, and my mom brought it up with me. I did some more research and realized it would be a perfect fit with everything I want for my future. I'm also a true crime fan so that helped to make it an easy decision.
What appeals to you the most about the profession? Many things appeal to me about the profession. I really like that no two days would be the same in the courtroom and that I would always be learning something new. I also love the aspect of having the opportunity to travel and live in different cities!
Is there a particular field you plan on going into, such as captioning or CART work, or being a court reporter? I plan on being a court reporter, but I look forward to seeing where life takes me after graduation!
What skills or interests did you already have that you feel set you up to be successful in this field of study? I am a true crime fan so that helps me to feel like this profession would be a great fit. I have a diploma in television, also from NAIT, so I feel like that would help me be successful because I have worked with technical equipment and television stations.
What advice do you have for others considering going to school for court reporting? Do your research. And if it seems like it would be a good fit, then do it! I know there are lots of tools you can access that will help you figure out if you'll like stenography. You will spend lots of time practicing, but it will pay off in the long run.
What do you enjoy the most about stenography? Learning all the words is the coolest thing ever. It's like learning a new language, and it's the funniest thing trying to quiz my friends and family on what the words are. I enjoy learning shorthand because it's a skill not very many people have and it's challenging.
What do you find the most challenging about stenography? So far, speed building! It's difficult to pass the speed tests for me. I know I'll get there, but for now the speeds ahead seem intimidating!
Do you attend school in-person, or online? How do you stay focused and organize your day? I attend school online. To stay focused and organized, I have tried keeping a regimented schedule. I have a daily planner that I use to map out my days so I don't forget about anything! I also like to put my phone away for a couple hours so I can really focus on practicing.
What's the best thing about your stenography TikTok being a huge hit? All the connections I have made! I now have friends across the world who are fellow court reporters or just curious about the profession. It's amazing to have fellow court reporters to ask questions to or receive advice from. I love having so many people cheering me on. I also love the amount of recognition the profession is receiving. It's been amazing to see how many people are now interested in stenography.
Do you plan to do more TikToks sharing information on the profession? Yes, 100%! I plan on continuing to create stenography TikToks to keep educating people about the profession. I am also always open to stenography TikTok suggestions!
Joanne McKenzie, CSR(A), CRC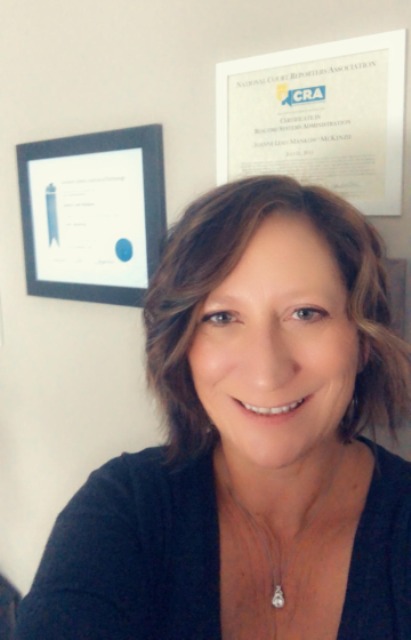 Tell us more about NAIT's stenography program. Captioning and Court Reporting is a two-year diploma program at NAIT. It is currently the only court reporter training program in Canada and is accredited through the National Court Reporters Association. We offer full-time day training onsite as well as online. All of our instructors are graduates of the program and have extensive industry experience.
We also have the support of our NAIT community, our provincial association, and industry stakeholders to provide the best post-secondary experience for our students.
What can potential students expect? Students can expect to develop the ability to write machine shorthand verbatim at 225 words per minute with 95% accuracy, gain proficiency with computer-aided transcription software, acquire comprehensive English and leadership skills, and perform the role of a court reporter or captioner.
Onsite students attend classes between 8 a.m. and 4 p.m. five days a week. In order to be successful in the program, it is recommended that students spend 15-20 hours outside of class practicing on the steno machine and studying for academic classes. We are excited to be launching our online program in May 2021 with the same quality curriculum for asynchronous delivery.
Advice to potential students. Applicants should possess a strong command of the English language, intermediate computer skills, and excellent hearing. We also advise students to come into the program ready to hit the ground running, so to speak. Students are immersed into the world of steno from day one, and new concepts are introduced frequently.
Why is court reporting such a great career choice? Graduates are in demand and are compensated well. Our program has had a 96.7% graduate placement rate since its inception. Graduates are employed locally, across Canada, and internationally and generally work as independent contractors. The career is appealing to many due to its flexibility and opportunity to find employment in different areas.
Court reporter – writing court trials, questionings for discovery (depositions), and quasi-judicial hearings.
CART provider (captioner) – writing real-time in educational, corporate, or community settings.
Broadcast captioner – writing live television events and internet programming.
Plus, it's interesting! You can be paid to caption your favourite sport or have a seat in the front row of a courtroom drama.
Are there any prerequisites for joining the program? Applicants are accepted on a competitive basis with 70% in English and a Grade 12 social sciences course. We also recommend students complete the Discover Steno A to Z Introduction to Machine Shorthand course offered through NAIT or NCRA.
Learn more about NAIT and our program at nait.ca/cor.