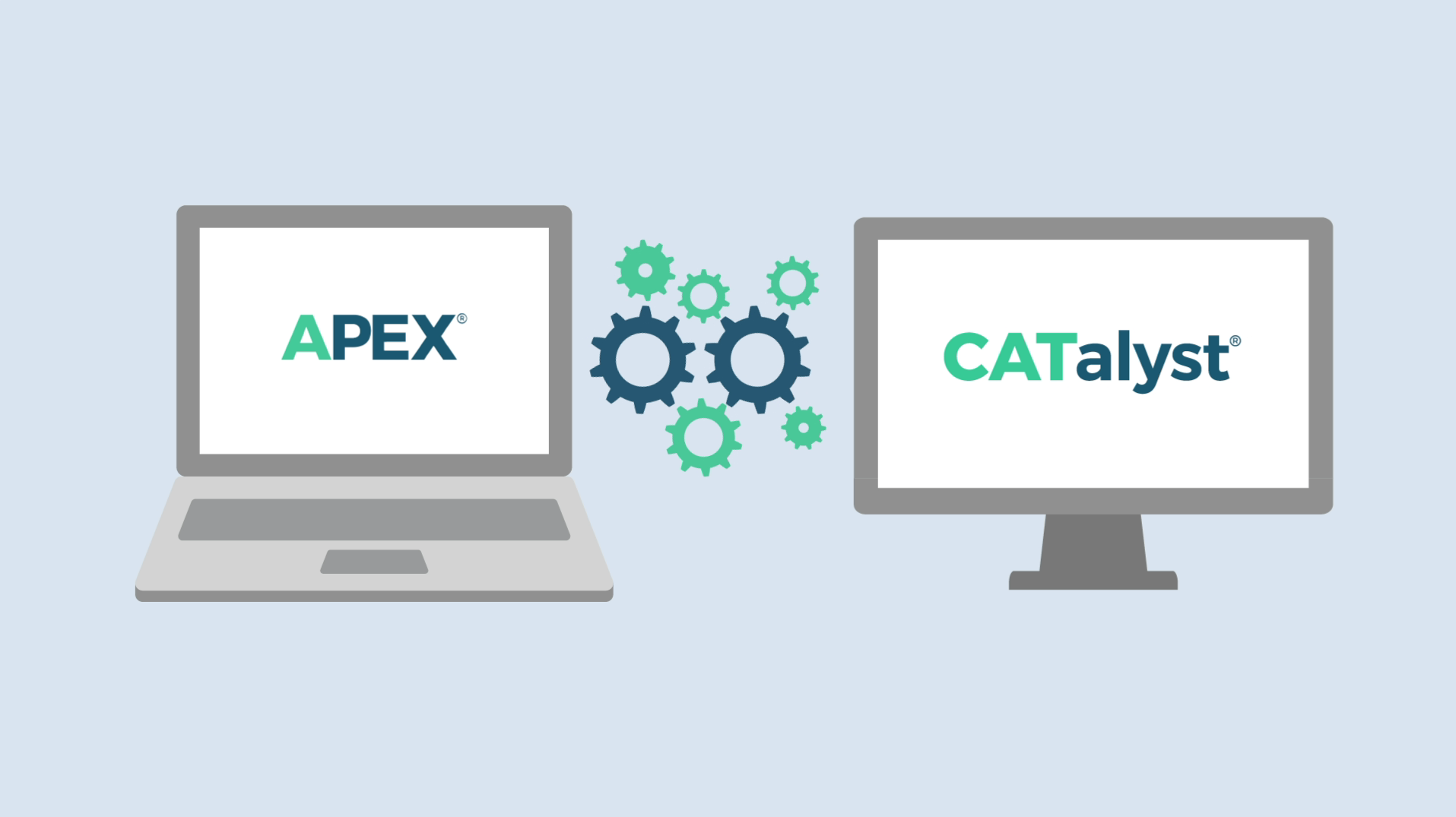 Productivity and efficiency are essential in any process. That's true for the agency and reporter connection. Streamlining just got easier with APEX, a single application from Stenograph that helps boost revenue, empowers both stakeholders, and makes the process easier. APEX has all the features and functionality to do that and more.
What Is APEX?
APEX is an intelligent ecosystem that combines multiple tools into one platform. It connects agencies to reporters with our court reporter software, CATalyst.
The system includes transcript production for video and audio. It also imports job data and uses artificial intelligence (AI) to help agencies evaluate job needs and find the right reporter, saving up to 30 minutes per job. That can translate to being 50% more efficient. There's no need to manage multiple systems and solutions with APEX.
How Agencies Can Use APEX
Agencies will have the opportunity to maximize their bottom line using APEX. APEX for agencies enables workflow optimization, which accelerates order management, scheduling, transcript production, video synching, exhibit linking, and billing. It's the only application to handle every aspect of a job from one platform.
This turnkey solution allows you to double capacity and enhance upselling of video, real-time, and synchronization jobs by up to $1000 per project.
More benefits include a central document repository, blockchain security preserving the chain of custody, and business reporting.
How Reporters Can Use APEX
APEX for reporters offers a better way to schedule, prep, and bill. This is possible because reporters can connect directly to APEX through CATalyst version 21.5.
These features decrease the amount of admin work and increase productivity, which could enable you to earn up to $5000 more a year in revenue. You can also earn loyalty points when you participate in the APEX Ecosystem, which on average translates up to $400 in points a year.
You'll enjoy the ability to communicate directly with agencies, receive notifications of changes, and use features to auto-populate job worksheets.
What's In the APEX Ecosystem?
APEX includes six major functions:
Order management: Details from emails and Notices of Deposition populate job tickets, reducing creation time by up to 50%.
Scheduling: Agencies can find qualified reporters by viewing their profiles, including skills, services, and rates. They can then use AI to evaluate job needs to find the right reporter, saving them up to 1.5 hours per resource. Reporters can create a profile and communicate your experience, which could save up to 2 hours a month.
Job and prep: Reporters import job data from the agency in APEX for case prep and transcript creation. They then upload the final transcript to the agency via the CATalyst desktop, reducing job and prep time by up to 12 hours a month.
Transcript production: APEX and YesLaw have an integrated workflow, so agencies can use it for video and audio synching.
Billing and payment: Agencies can prepare and track invoices, pay their resources, and accept payments from clients. Reporters can do the same, receiving payments in the CATalyst desktop, saving them up to 4 hours per month.
Experience APEX Today
APEX is changing the way agencies and reporters collaborate and work together. Learn more about APEX today.