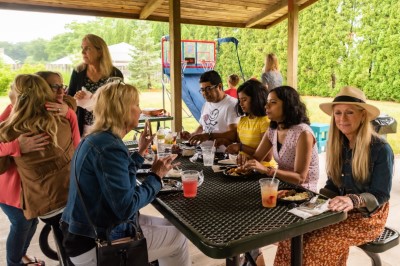 Way back in March, the committee in charge of planning the company wide "fun" stuff compared calendars to pick dates for our 2nd annual company picnic. With COVID being, well, COVID, we were doing so cautiously. With infection rates changing by what seemed by the hour, we were all holding our breath to see if we were able to have the picnic as planned.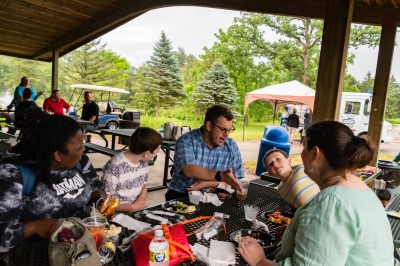 Slowly but surely, folks flew and drove in during the last week of June to get ready. The Wednesday afternoon before everything kicked off, I heard screeching in the bathroom adjacent to my desk; our international sales rep and a tech support rep had met in person for the first time, after working together via email and Teams for months. "You're real!", Karen declared. "It's so nice to meet you!", Toya exclaimed back. The Stenograph team has grown and changed since the pandemic hit. Many of our remote employees were in office with their colleagues for the very first time.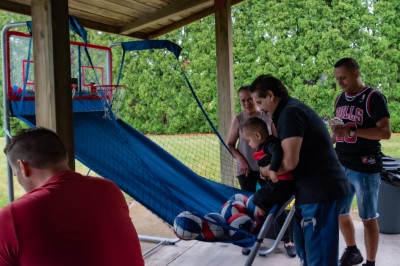 The weather for Thursday and Friday was warm, humid, and sunny—it was, hopefully, a good sign for what the weekend would look like! But Mother Nature had other plans, and the morning of was gray, drizzly, and cool…not exactly picnic weather. While it was a welcome break from the 90-degree temperatures, it had another unexpected bonus. It forced attendees to congregate under a covered pavilion to stay dry and that sparked great conversations and connections. Getting a chance to meet grandkids and parents and spouses and little ones was taken full advantage of.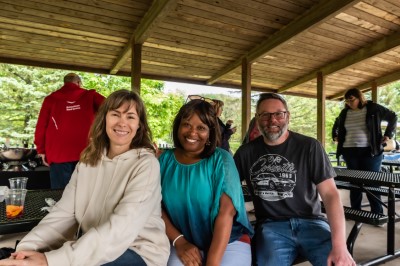 Of course, a picnic isn't a picnic without great food; the chicken tenders were such a hit with kids (and adults!) last year that we made sure to have extra. The burgers went quick, the rum punch didn't make it to the end of the day, and, my favorite, the mac and cheese, deliciously lived up to its name. After a while, the weather did eventually cooperate. The sun started to peek out just enough for kiddos to break out the jump ropes and toss some Frisbees—yahoo! The ice cream truck pulled up and the line grew quickly for those wanting to grab ice cream bars and popsicles. There was a large selection, and we all felt like kids as we tried to decide what treat we wanted. A lot of folks went back for seconds, myself included.
As the out-of-towners said their goodbyes and trickled out to catch flights or start driving home, I overheard our Customer Care Manager swapping stories with our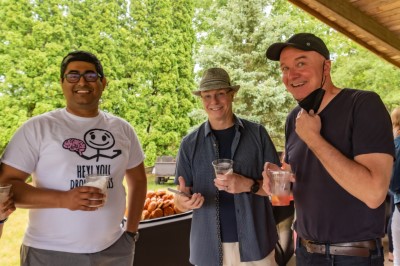 Tech Support Manager. They were comparing cringeworthy tales we all have about tattoos and their teenage years and getting some laughs in while they did so. Genuine laughter and human connection taste sweeter in a world where you're able to interact in person. Almost as sweet as an ice cream bar!