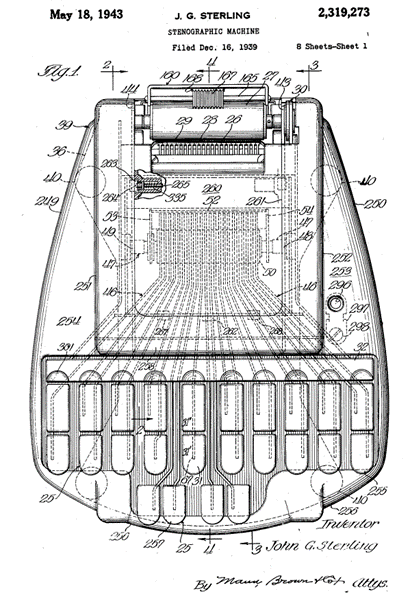 "The resulting machine is characterized by its sturdiness and compactness, silence and ease of operation, dependability of action, modern and pleasing appearance, portability, its simplicity and construction and maintenance, and many other special features intended to improve the usefulness of the machine."
The above quote sounds like it is describing the Luminex II, but what if I told you it was written 8 decades ago? It is an excerpt from Stenograph's 1939 patent application for the latest stenographic machine, declaring its superiority over all other competitors in the market. It's a timeless statement, relevant to both Stenograph's original, groundbreaking machine from 1939 and the cutting-edge Luminex II of today.
Sturdy. Silent. Dependable. Easy to use. Modern appearance.
It struck me when I was reading through this interesting piece of Stenograph history, that the important features to customers 85 years ago are the same things that customers want from their writers today. The key characteristics of reliability, ease of use, stylish, sturdy, and dependable were goals of the first machine to carry the Stenograph trademark, and still guide our decisions and drive the improvements that we make to our machines today. What was once defined as "modern appearance" back in 1939 is very different from what most would consider modern today, but it demonstrates that throughout our history, Stenograph has been focused on bringing the latest in technology, style, and function to all our writers while improving their effectiveness and usefulness.
Our decades of knowledge have culminated in the Luminex II, characterized by worry-free performance and impeccable accuracy created by cutting-edge technology that makes your life easier. Its sleek and modern styling is a testament to Stenograph's ongoing commitment to achieving a "modern and pleasing appearance" just as it was decades ago. Clean flowing lines, premium finishes, and a range of classic, attractive colors allow your Luminex II to blend into any professional environment, while still allowing you to showcase your personality.
Introducing Graphite
We are delighted to introduce you to the latest color of the Luminex II, Graphite. This deep, rich gray is the perfect neutral color. Graphite is associated with calm and composure and symbolizes strength and resilience- something that I am sure many stenographers can relate to. Modern and on-trend while still being classic and sophisticated, the Graphite Luminex II is a timeless addition to our family of Luminex II colors.
As we continue to evolve and move into the future, one thing remains constant from our founding- Stenograph's unwavering and enduring commitment to delivering quality, stylish writers and software that empower stenographers to capture, produce, and preserve your work with the utmost accuracy and ease.
To see the new Graphite Luminex II in person, visit our booth at the 2023 NCRA Conference and Expo in Houston, Texas, July 27-30. We can't wait to see you there!
You can read more about the Graphite Luminex II launch here.