CaseTestify and MAXScribe work together to benefit you!
Did you know that approximately 70% of depositions are fully remote or hybrid? 2020 forced us to change how we work and how depositions are handled. Often, the solutions used weren't made for online legal proceedings, but participants had to make them work, however inefficient and clunky. You had to use one application for video conferencing, another to handle exhibits, and something else to transmit the realtime to clients. Well, say goodbye to that ad-hoc process and say hello to the efficiencies you gain when you start managing your remote digital depositions with CaseTestify and MAXScribe.
Now you can capture multi-channel virtual audio in MAXScribe when you are using CaseTestify as your remote deposition platform. Since the audio from each speaker is routed into MAXScribe from CaseTestify in their own channel, you get perfect speaker identification of remote participants in the transcript resulting in less editing time for you and a faster transcript turnaround.
The seamless integration of MAXScribe and CaseTestify provides a complete end-to-end solution for remote depositions. Advanced Phoenix ASR and integration with CaseViewNet and RealTeam make it easy to provide realtime text to clients, same-day rough transcripts, and next-day completed transcripts.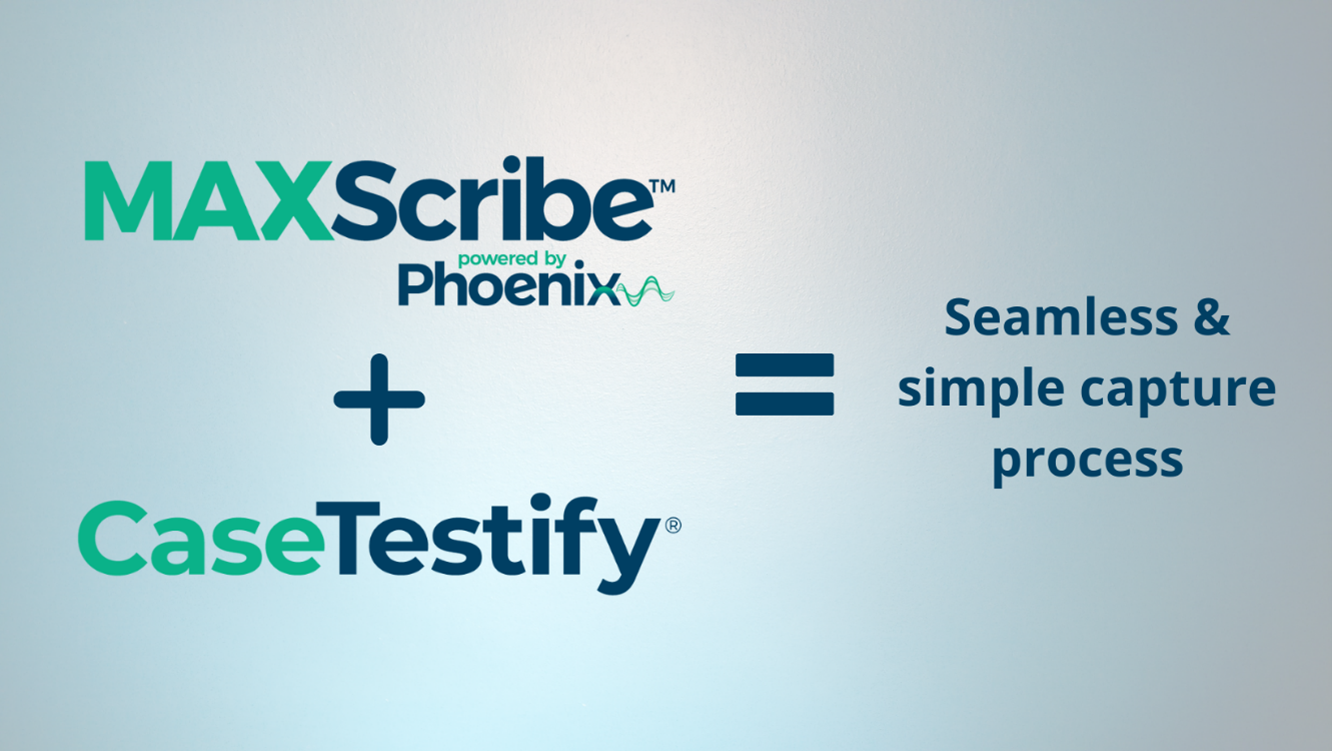 What is CaseTestify?
CaseTestify is the complete remote legal proceeding solution designed specifically for the legal industry, providing users with a simplified way of taking online proceedings. This innovative and intuitive platform combines secure video conferencing, interactive exhibit management, cloud storage of deposition assets, and ViewScript powered by Phoenix, a realtime in-testimony and post-deposition review tool.
Exhibit Management: Integrated tools make it simple for participants to upload, stamp, and share exhibits. Attendees easily and instantly receive access to all deliverables.
Video Conferencing: High-definition video capture records directly to the cloud with flexible recording modes, enabling an integrated timestamp, allowing agencies to immediately deliver a legal-ready video to their clients.
Built-in Integrations: MAXScribe integration makes it simple to capture single- or multi-channel audio, removing the need for third-party audio capture software. CaseViewNet integration lets users present, view, and search the realtime transcript from both MAXScribe and CATalyst.
ViewScript: Powered by Phoenix, a custom-built ASR engine for the legal industry, ViewScript provides realtime multi-channel audio and text in-testimony review and instant post-deposition review.
CaseTestify is a safe and secure solution, and you can be confident that we do not use your data to improve our speech engine or AI. This includes using CaseTestify to record audio, ViewScript Powered by Phoenix, and CaseTestify connected with MAXScribe.
What is MAXScribe?
MAXScribe is designed for the digital court reporting and legal transcription industry, incorporating recording and annotation, live text streaming, live text editing, automatic speech recognition (ASR) translation, and transcript editing within a seamless process.
Earlier this year, we updated MAXScribe, adding improvements that enable realtime reporting and expanding the types of audio devices used to capture audio, including ASIO drivers. Additionally, enhancements to MAXScribe have now made it easier to use in the courtroom.
Features in MAXScribe were designed with our knowledge of court reporting and your workflow.
Make it EASY to use: Features like simplified editing and seamless remote depo platform integration make it easier to use the dynamic features in MAXScribe.
Make it EFFICIENT: Finish 'em, one of Stenograph's popular tools was added to MAXScribe, consolidating your transcript production options in a single step.
Make you MONEY: The ability to offer realtime reporting, the option to accept video files for transcription, and the ability to use ASIO drivers to capture audio, allow you to offer new services to your clients.
Looking for more information?
When you use Stenograph solutions, you can be confident that you are getting products that will help you achieve maximum efficiency and make more money. Looking for more information on how Stenograph's solutions can help you? Contact enterprise@stenograph.com.