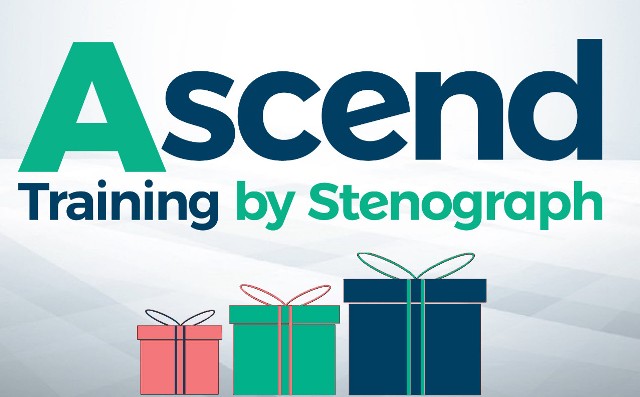 When you're buying a present for someone you genuinely care about, like your scopist, or your reporter-client, or a reporting student, you want to get them something personal to them; something you know they need and will use. You want it to be something they will value. It needs to fit them perfectly and make them feel good and look great.  What cost-effective gift can you buy online that guarantees to provide all of that?
Ascend Training by Stenograph.
Training is something that every fellow Stenograph product user needs and wants, and will use when it's available to them, regardless of how long they've been in the industry, because everyone, from the newest newbie to the most seasoned professional, still wants to know how to get pages out the door faster, to save time, and to be more productive.
Ascend is also a very personal, customized gift. You may not know specifically what topics someone needs help learning, whether it's indexing, macros, briefing, or numbers, or something else entirely. At Ascend, whatever your learning need, the answers are at your fingertips via a variety of webinars and Q & A "office hours" sessions with Cindi Lynch. It doesn't matter if you're not available to attend when a class is given, because all classes are recorded and available to view 24/7. Better yet; the videos have time-referenced content guides, so you can watch the part(s) you want and skip anything you already know. Questions can be posted any time and answered either by a Stenograph professional or a knowledgeable colleague.
It's a comfortable place to learn for several reasons. First, you can access it from anywhere – your computer, your tablet, or your phone. Second, it's available at your convenience, not on someone else's schedule. Third – it's a genuinely safe online community: the participants at Ascend are polite, professional, and encouraging to each other. It's very similar to attending a reporting conference or convention every time you show up – in addition to classes, polls and quizzes, and articles that will spark new ideas and make the work easier and more enjoyable, it's a place where you can interact with your colleagues, listen to their ideas, and contribute your own.
It's incredibly easy to give Ascend Training by Stenograph as a gift!  All you need is the name and email address of the person to whom you want to give Ascend Training. Then, click HERE, or visit www.stenograph.com/ascend and click the "Give Ascend as a Gift" link, and then click Go! An online form will guide you through the process. You'll be able to provide a personal message for your recipient and specify the date on which they should get the email notifying them of their gift and instructions to access Ascend.
| | | |
| --- | --- | --- |
| Buying a Gift For… | 6-month subscription | 12-month subscription |
| Professional Reporter/Captioner/CART | $99.99 | $199.99 |
| Scopist/Proofer/CR Instructor | $69.99 | $139.99 |
| Student | $49.99 | $99.99 |
To learn more about Ascend, whether you're planning to give it as a gift to a good friend or join for your own benefit, visit https://stenograph.com/ascend.