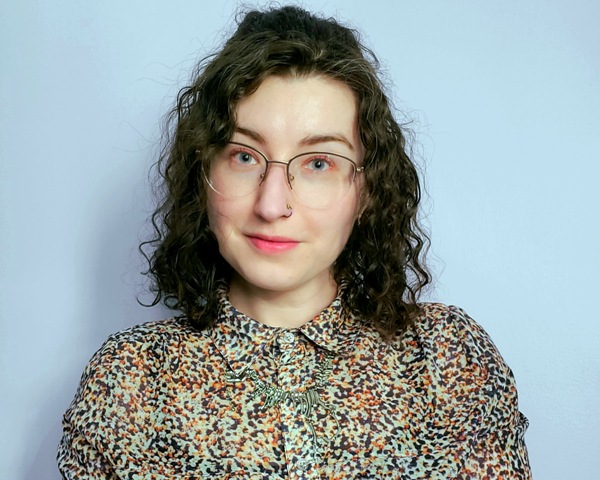 Janice Plomp, CSR(A), RDR, CRI , is passionate about macros and keyboard shortcuts. As it turns out, so am I. I've been using macros in my day-to-day for over a decade: in my previous career as a graphic designer using Adobe Photoshop and in my downtime playing video games. It was Janice that introduced me and the rest of the stenography students at NAIT to remapping the default keyboard shortcuts. She showed us how to navigate the document with the J-I-K-L keys and increase efficiency by placing useful shortcuts within reach of our fingertips. Easily cycling through contractions, converting numbers, making definitions, cycling through capitalization – these are all incredibly useful tools without having to move our hands.
Then along came the macros. We were introduced to macros that might be useful mapped to the keys near our fingertips. There were some macros, however, that would need to be mapped to the toolbar. They were useful, but they weren't important enough to take up precious space on the keyboard. So, despite all of our efforts, we were still going to have to reach for the mouse and navigate around the workspace. It wasn't until I was playing World of Warcraft at the end of the night – I had put in a good practice that night, I swear – when it dawned on me that the gaming mouse I had – a budget SteelSeries – could be just as useful in stenography as it was in keeping my friends alive in the video game.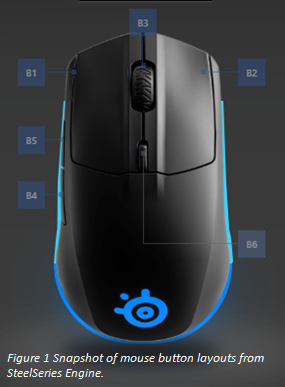 I hopped over to CATalyst and immediately tried to map any shortcut to a mouse button. Unfortunately, I quickly found out that it wasn't something I was going to be able to do. I guess they call it a keyboard map for a reason. I reached out to Janice to see if she had any insight, but after putting our heads together we didn't have any further luck figuring it out. It wasn't until I was in the software that came with my mouse and playing with the light settings that I remembered I could use the software to map key bindings to each mouse button. Excelsior!
I went about assigning keyboard keys to the buttons. Buttons 3, 4, 5, and 6 were mapped to F13, F14, F15, and F16 respectively on the keyboard. Going back to the CATalyst keyboard map, I could then assign functions and macros to F13‒F16. Now when I click button 3, it's the same as if I hit F13 on the keyboard. This means that I can also use any combination of CTRL and SHIFT that CATalyst allows me use and that one mouse button can give me access to up to four shortcuts or macros. All this is possible without having to navigate further around the workspace.
But wait, there's more!
This isn't limited to a gaming mouse. Many Microsoft mice have extra buttons on them, as well, with two buttons on the side of the mouse for navigating forward and back in a browser. Microsoft also has their own software you can use with those mice to program those buttons. Logitech is similarly designed and integrated, as are other tech companies. If your mouse has touch capabilities, imagine how creative you could be using gestures.
That's not all.
One of the pros of my gaming mouse – even as a budget one – is that it allows me to set up different user profiles for it. And it has the ability to save those profiles in the mouse using its onboard memory, meaning that wherever my mouse goes, my shortcuts go with me in the same way I can take a custom keyboard map or dictionary with me. And the software allows me to tell it to switch to a specific mouse profile upon launching specific software. That means every time I open CATalyst on my computer, my mouse automatically switches to the shortcut setup I want. And then when I go back into my game, it switches to that profile instead. WILD!
We've only just learned about macros and I am still learning about all of the possibilities of CATalyst, so my F13 is currently set to a variety of zooms and page layout views as it hasn't been important enough to take up a key better served with an editing command. That being said, I use those shortcuts all of the time. I'm really looking forward to the application of creating multiple indices and simultaneously certifying a transcript with one click of a mouse. Who knows what else could be automated in this way? I absolutely cannot wait to explore this further!
Learn more about Hayley
What led you to seek a career in court reporting?
Before studying court reporting, I had worked as a graphic designer for ten years. I came to a crossroads in my career and had to decide what I wanted my future to be. At the time, I didn't even know that stenography was still a thing! A friend of a friend had just started the program and she kindly sat down with me over tea to answer all my questions. I quickly became obsessed and here I am.
What appeals to you the most about the profession?
Every day can be different. There is so much to learn right now and I don't think that's ever going to stop. I'm even hoping to work traveling into my career.
Is there a particular field you plan on going into, such as captioning or CART work or being a court reporter?
I wish I could say that I have a preference, but I don't. I don't want to miss an amazing opportunity just because it's not what I've pictured for myself. That being said, I absolutely have a passion for captioning and CART work and for how vital it is to so, so many people.
What skills or interests did you already have that you feel set you up to be successful in this field of study?
I've always had good hand-eye coordination and I think that knowing how to play an instrument or speak another language really helps. I would be remiss not to mention gaming. Oh, and, of course, a sense of humour.
What advice do you have for others considering going to school for court reporting?
As a student myself, I'm still seeking advice from others. I'm in my first of two years of school, so there is a lot I am still learning and getting a handle on. If I had to say anything at all, I would remind anyone interested that this is a very unforgiving profession. There are high standards that we must meet in order to qualify to write verbatim. You will fail often. That's okay. Be kind to yourself about it and keep trying.
What do you enjoy the most about stenography?
Writing in shorthand is like a secret language. Stenography is like a not-so-secret secret society. Stenographers have an amazing skill set and I genuinely enjoy sharing and trying to get family and friends to understand that magic of what we do.
What do you find the most challenging about stenography?
The rollercoaster of failing and passing. It has been an arduous exercise in self-compassion and stubbornness. Some days my fingers feel like they were the inspiration for Rimsky-Korsakov's Flight of the Bumblebee and other days I can physically feel how long it's taking my brain to translate and then write. It's challenging not to take every bad day as a marker of my progress or lack thereof.
Have you had any challenges overcoming a particular speed level in school?  If so, how did you overcome it?
Oh my, yes. I feel as if I was stuck on 100WPM jury charges for forever. I just kept practicing and practicing. Eventually, I started pushing my speed up higher. For a couple of days I wouldn't practice below 120, and then when I went back to 100, it came a lot easier.
Do you attend school in-person or online?  How do you stay focused and organize your day?
COVID-19 has had a huge impact on our classes. Initially, they would have been in person, but because of the pandemic, our classes at NAIT have shifted to a mix of synchronous and asynchronous classes online. I'm really looking forward to being back in-person so that I can meet my classmates! As for staying organized, I'm a paper and pen kind of gal. I have an agenda that I organize my week in on Sunday nights and make it a part of my routine for preparing for the week. Admittedly, focus is something I still struggle with on a day-to-day basis (especially when you have a cat who is determined that she can write better than you can). To combat how easily I seem to become distracted at home, I've built myself a routine that I adhere pretty strictly to and I will often allow myself to do something that I really enjoy doing before settling down to do work.