Are you looking for that upper hand that allows you to work more efficiently and gives you peace of mind that you have an entire team supporting you? For only a few dollars a day, you can have that advantage with an Edge for CATalyst contract. 
Edge is Stenograph's annual support plan for CATalyst that gives you: 
Priority access to Technical Support

– calls from Edge customers are answered before those who do not have a support contract. 

 

CATalyst Updates

– when a new version of CATalyst is released, those with a current Edge contract are eligible to receive that update.

 

Cloud Backup

– Edge customers get 100 GB of free cloud storage with the option to purchase more.

RealTeam

– customers on Edge have access to RealTeam for simultaneous editing during and after realtime proceedings. 

 
Introducing something NEW- Training Content!! 
Starting in March 2023 we are adding a new benefit to Edge! Now, Edge customers will also have access to recorded video training content and articles through our CATalyst Academy.  
In a recent survey, we asked you how we could add value to Edge and CATalyst, and one of the top responses was training content. Since then, we have been working hard and we are very excited to introduce CATalyst Academy where you can find answers to many CATalyst questions. 
What is CATalyst Academy? 
Included with your Edge support plan, you now have access to training content. Within CATalyst Academy you will find training webinar videos and articles directly from the experts at Stenograph.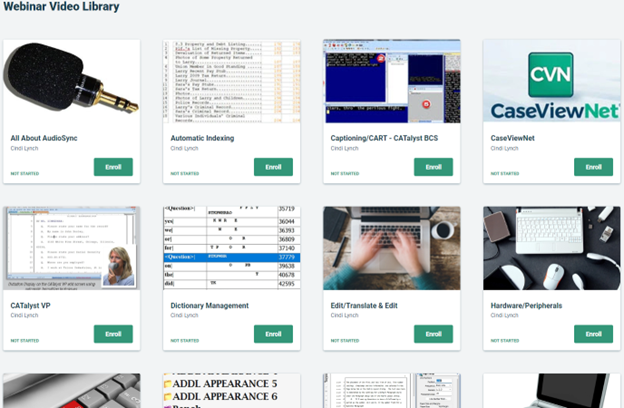 What type of content is available in CATalyst Academy?  
Currently, there are more than 140 videos ranging from 1 – 1.5 hours, that's nearly 200 hours of training videos. All the videos come with a time-referenced, searchable content guide that allows users to fast-forward and get answers to their specific questions without having to watch the whole video. Plus, there are close to 200 articles that can help boost productivity. It doesn't stop there, new content will be added quarterly and will include a minimum of 15 videos and searchable training guides, plus 12 new tips. 
Topics cover a variety of Stenograph products including Luminex II and CaseViewNet, but most of the videos and articles are related to CATalyst features.  
Webinar Videos

: Topics are focused on CATalyst features, but also cover a variety of Stenograph products including Luminex II and CaseViewNet. 

 

Content Guides:

Time-referenced, searchable content guides allow you to fast-forward through the Webinar Video and go directly to the material you wish to review. 

 

Handouts

: Some Webinar Videos are accompanied by detailed handouts with detailed step-by-step instructions and summaries of some concepts. 

 

Tips & Tricks Articles:

Short articles that target a specific option or feature and provide insight for practical usage. 

 
How do I get started?  
If you are currently on Edge, you should be receiving an email in the next few days with a link to activate your account. Click that link and get started!
If you currently do not have an Edge support plan and would like to get back on one, please call (800) 323-4247 and our sales team will help you get current today!  
Where do I go if I am looking for more information on CATalyst Academy?