Stenograph was recently invited to join our sister company, Davies Molding, to volunteer at a local organization, SCARCE. This was our first time working with SCARCE, and though we knew only a little about their mission to start, our teams were excited to support the community and learn more.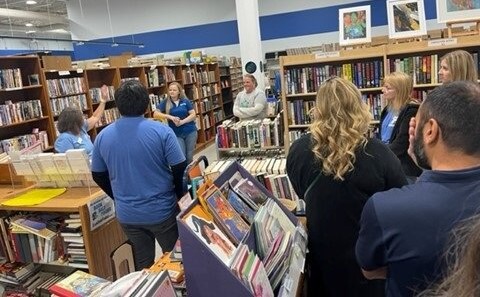 When the volunteers from Stenograph and Davies Molding arrived at SCARCE, we were warmly greeted by Bev Jaszczurowski, Chief Operating Officer. Bev started by showing us the book section of SCARCE's 19,000-square-foot facility in Addison, Illinois. It all started with her mom, SCARCE's Executive Director and founder, Kay McKeen. When Kay was teaching, she realized that many schools had old textbooks sitting in storage, and these books may never be used. She didn't want the books to end up in landfills, so she decided to rescue them. She believed she could find them a home in another school or institution that needed these educational materials, and she was right. This sparked the beginning of her book rescue, which then led to collecting other educational materials, such as microscopes, classroom supplies, crayons, binders, and more, to donate to those in need.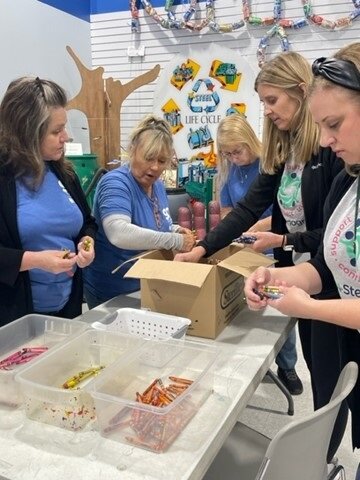 SCARCE accepts donated items and the team of volunteers reviews and organizes them so they are ready for a new home. If the items can't be used, they pull what they can to reuse or recycle. It's all about keeping these valuable resources out of landfills. Teachers can come into SCARCE and shop the organized racks for the materials they need for their classrooms. It was great to see that items aren't being wasted.
In addition to school materials, SCARCE has collected a variety of other items, such as promotional blankets and shirts that had misprints and weren't going to be used by the customer. They make sure the items go to those in need and do not end up in a landfill.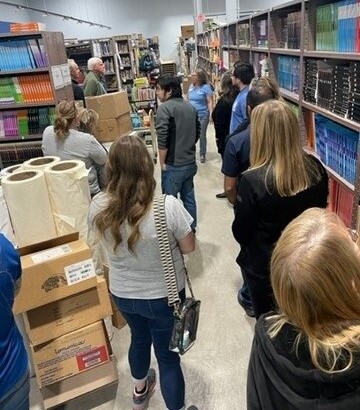 During our time at SCARCE, half of our group assisted by sorting donated crayons. Crayons that were in new or like new condition got bagged up for teachers, while the broken pieces had wrappers removed to prep them for melting. The broken pieces are melted and poured into fun-shaped molds for teachers to take to their classrooms. The rest of our group worked to dismantle binders that weren't in good condition. The binders can't be recycled as is, but they can be pulled apart to recycle the cardboard and metal. At SCARCE, nothing is wasted.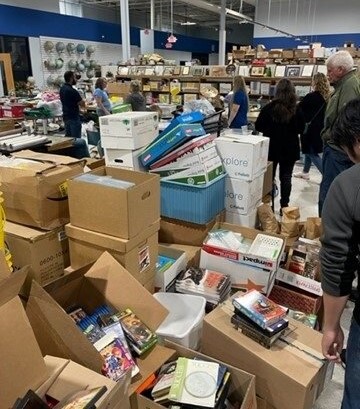 Volunteering at SCARCE was educational and rewarding. The work that this organization does is impressive! We all walked away from this event with more knowledge of how we can all make a difference. After all, SCARCE's mission statement is, "We help people discover how easy it can be to make a meaningful difference for our kids, for our environment, for our future…and often for all three at once."
To learn more about SCARCE and the amazing work they are doing, please visit www.scarce.org.