For over 80 years, Stenograph has been providing cutting-edge technology for the court reporting industry. We pride ourselves on creating advanced solutions that allow for the efficient capture, production, preservation, and accessibility of verbatim records. This innovation can be seen in MAXScribe and its most recent update, Version 3.0.  
MAXScribe is the first and only end-to-end solution for reporters and transcriptionists that combines audio with our custom-built Phoenix ASR engine and industry-leading editing, layout, and production tools to produce a final transcript in a single application. By using MAXScribe, certified digital reporters can double their earnings and certified transcribers can increase their efficiency by up to 50%.  
Are you ready for a realtime experience?  
Yes, you read that correctly, REALTIME STREAMING! MAXScribe now includes all the tools that let you offer realtime services to clients and provide same-day transcript turnaround! The most significant update in Version 3.0 is the ability to see a near-instant stream of text from Phoenix. Simply select streaming when you launch a job, and voilà!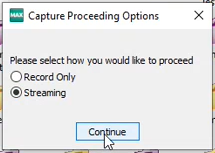 When you select streaming, a near-realtime feed of text in a formatted transcript will be visible, making it easier to do readbacks! RealTeam has been integrated with MAXScribe since Version 1.1, but now, editors can collaboratively edit in real time the streaming text. There is no need to wait until a job is over to perfect the transcript! MAXScribe is now also integrated with Stenograph's CaseViewNet®, which allows the realtime text stream to be shared with attorneys, judges, and other interested parties.  
Streaming text integrated with CaseViewNet and RealTeam™ gives you everything you need to offer realtime, same-day transcript services to your clients. Talk about a game changer!  
Additional charges apply for streaming with CaseViewNet and RealTeam, contact Enterprise Sales for pricing information. 
Even more features!  
Streaming and CaseViewNet are huge, but we've also introduced some other features in Version 3.0 that will improve user experience.  
MAXScribe now has

a new

pane for

unformatted text.

Th

is shows

the rough unformatted text after the audio is initially run through Phoenix.

In addition, a

rough formatted transcript

will populate in the transcript pane in real time. The rough, formatted transcript can be directly edited in real time by the reporter or editors using RealTeam.

Both the unformatted text pane and formatted transcript pane support audio playback. 

 

We've added more

pop-up messages

to alert you if you are not recording or if you attempt to close a job before Phoenix has finished transcription.

 

MAXScribe currently informs you of the recording status, but now we've added

streaming status

to easily see if Phoenix is connected and ready to stream.

 
Stay tuned for our upcoming webinar on the realtime features of MAXScribe. See how streaming, CaseViewNet, and RealTeam all work together to help you decrease your turnaround time and provide same-day services to your clients!  
Interested in learning more about MAXScribe and seeing how it can work for you? Contact our Enterprise Sales Team at enterprise@stenograph.com or call 1-800-910-5009. 
In addition to the new features in Version 3.0, we also released updates to MAXScribe earlier this year. Read these blog posts to see the changes we've made to improve user experience and add functionality.  
June 2022-

Version 2.0

. Learn more about the audio capture improvements like live monitoring and dedicated playback, as well as our capture-only options.

 

March 2022-

Version 1.1

. Find out how we improved quick annotations, incorporated RealTeam collaborative editing, and gave users the choice of how the Phoenix ASR engine formats the output.